The 2022 Holiday Gift Guide
The countdown is on! 

 Here are how many more shopping days you have left for your gifts to arrive in time for Christmas: 
Three Tips for Shopping This Year:
1. Make it personal - a thoughtful gift with a heartfelt note is more important than expensive baubles.
2. Create experiences - sharing an experience like enjoying coffees from around the world or creating a pancake breakfast is more fun than stuff. 
3. Good taste is always in style - someone who "has it all" will love enjoying food and beverage gifts that won't sit around the house forever.
Seven Great Gift Ideas:
1. Flavored Coffees, Fit for the Season
Flavored coffees such as "Winter Wonderland", "Egg Nog", "Jack Frost Java" and "Frosty's Favorite" are available to grab off of the shelf in the cafe or to order online and ship directly to your doorstep (or to their's). 
2. Coffee Sampler Sets
Each 2oz Sampler includes enough coffee to brew a 8-10 cup pot of coffee. Each set includes 3 Origin coffees such as our "Lima Bean Blend" & "Guatemala Antigua" and 3 Flavored coffees such as "Highlander Grog" and other seasonal flavors!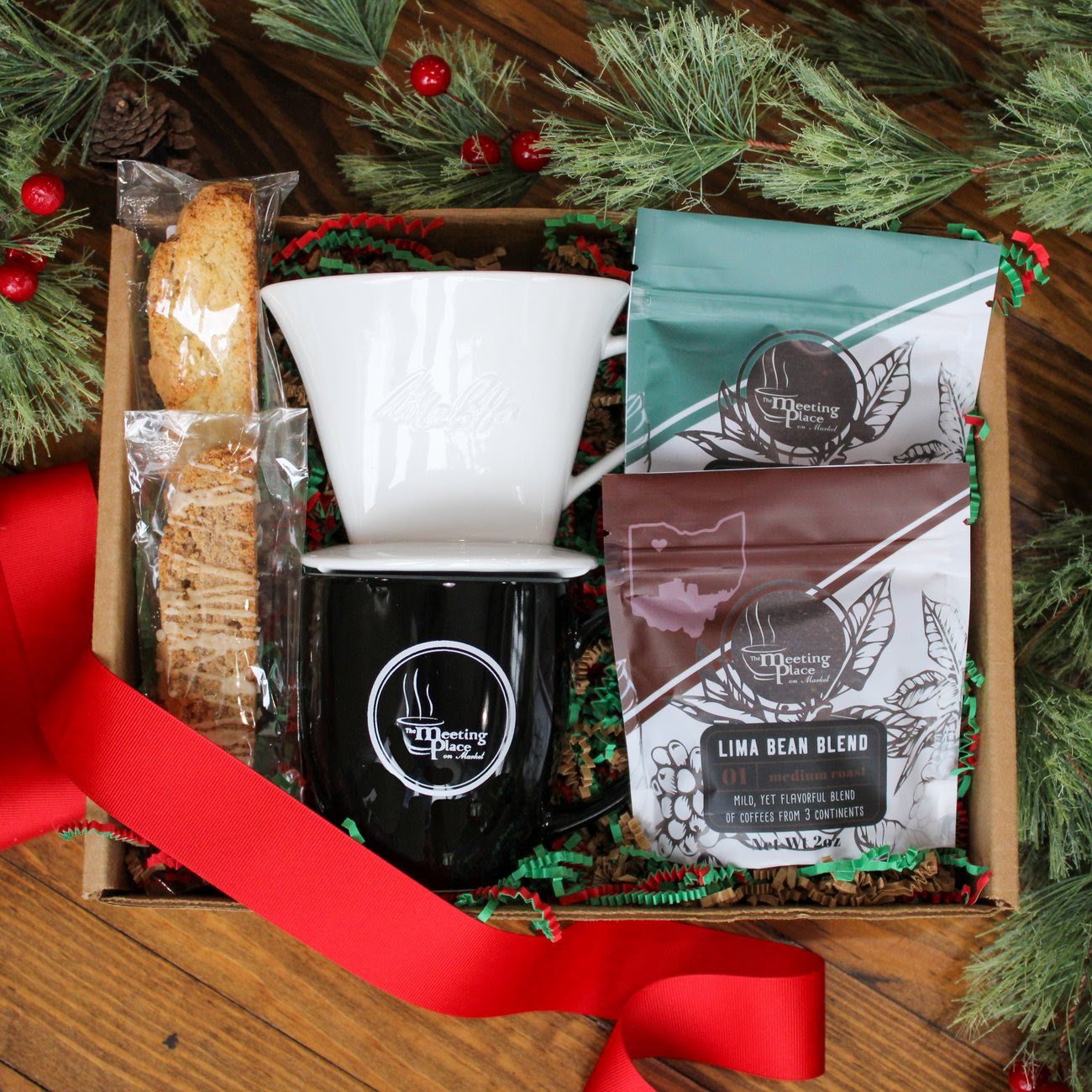 3. Become a Pour-Over Pro
Want a more flavorful cup of coffee? Want to level up your coffee game? This is the set for you! The simple method of using a pour-over, give you more control over the flavor of that daily cup of coffee. This is a great gift idea for that coffee lover in your life! 
4. Cookies for Santa
No time for baking fresh cookies for you-know-who? We have you covered. This kit includes all you need for his arrival: 4 delicious cookies, Hot Cocoa, Marshmallows, The Night Before Christmas Story to read before bedtime and a TOP SECRET letter from Santa himself! ;) 
5. Barista Experience Kit
The perfect gift for any coffee lover! This kit includes a different way of brewing coffee from the comforts of home, with all the tips and tricks from our very own coffee house baristas! 
6. Christmas Morning Box
Everything you need for a special Christmas morning breakfast! Our Pancake Mix, a half pound bag of our famous coffee, local, pure maple syrup, hot cocoa for the littles and fun marshmallows to add to it! 
See more about our Breakfast Set
7. Give a gift that gives all year long!
Our Coffee of the Month Subscription boxes feature two unique flavored coffees, fit for the season, and one of our house origin blends in half-pound bags.